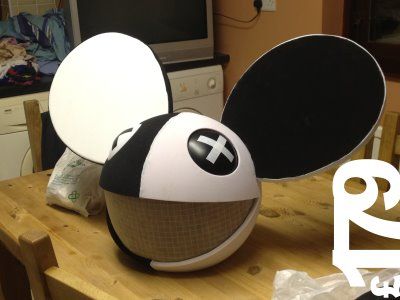 A very unique design that featured in the Mau5head design competition, this mau5head has a vertical seam down the middle instead of the standard horizontal seam around the back. Each ear features a line of fabric around the outline and the eyes are black and white with opposite crosses.
The mau5head will be boxed with detachable ears. 4x Wing nuts are supplied with each mau5head to secure the ears to the head. Domed eyes cover an LED Glowstick which is supplied with batteries and activated by a button from the inside. 
All our mau5heads are made to order and therefore construction only begins once your order has been placed. Usually it will be shipped within a week of ordering but you will get confirmation of your order and an estimated delivery time soon after ordering.  
________________________________________________________________________________________________________________________________